---
---

DAVID PICHETTE
Nationality:
USA
email:
n/a
Website:
n/a
Literary Agent:
n/a
Since moving to Seattle from NYC 32 years ago, David has regularly appeared on all the major stages in the Pacific Northwest. At Intiman Theatre, he has gone from Guildenstern in Rosencrantz and Guildenstern are Dead to Arnold in A Thousand Clowns, with stops in between varying from Bob Acres in The Rivals to Schmendrick in The Last Unicorn. Some of his most memorable roles at A Contemporary Theatre have been Grez in Red Noses, David Hare in Via Dolorosa, Mellersh in Enchanted April, and George in Jumpers. He has been in the premieres of works by Alan Alda, Jeffrey Hatcher, Steven Dietz, Eric Overmeyer, and Peter S. Beagle. He was recently seen as Fagin in Oliver, and the Major-General in The Pirates of Penzance, both at the Fifth Avenue Theatre. He and R. Hamilton Wright began a new career as co-adapters a few years ago, with Double Indemnity, which has received numerous productions around the country.
Buy Plays with Doollee
Each page of doollee.com has links to play/book outlets, either directly to the Publisher, through Stageplays.com and Amazon to the second hand and 1st editions of AbeBooks. These links will automatically take you to the relevant area obviating the need for further search.
AbeBooks.co.uk
AbeBooks.com
Stageplays.com
amazon.com
amazon.co.uk
amazon.ca
---
whether you are a Playwright who wishes to make their entry definitive, an unlisted Playwright or a User with a tale to tell - we want to hear from you.
download WORD submission template
---
---
---
Double Indemnity
Synopsis:
Mystery, lust, intrigue, and murder! In 1930s Los Angeles, disillusioned insurance agent Walter Huff finds temptation too hard to resist when he meets femme fatale Phyllis Nirlinger, the wife of a wealthy client. After realizing that she wants to get rid of her husband, Huff decides to help her plan the perfect crime. Accident insurance pays double indemnity on railroad mishaps, so they plot to get Nirlinger on and off a train without arousing the suspicions of the police, the insurance company, Nirlingers dishy daughter, her mysterious boyfriend, or Nirlinger himself. This tale, adapted by Billy Wilder in his snappy film noir, now comes to the stage in a delicious new take on the celebrated suspense novel.
Notes:
from book by James M. Cain. Adapted for the stage by David Pichette And R. Hamilton Wright
1st Produced:
Round House Theatre, 4545 East-West Highway, Bethesda, MD 30 May 2012
Organisations:
-
1st Published:
- -
Music:
-
To Buy This Play:
If Publisher (above) is underlined then the play may be purchased by direct click from the Publisher, otherwise (below) are AbeBooks for secondhand, signed & 1st eds and other Booksellers for new copies
Booksellers:
Genre:
adaptation
Parts:
Male: 4 Female: 2 Other: -
Further Reference:
-

Top of Page
Hound of the Baskervilles, The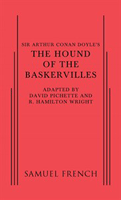 London. Autumn. 1889. The famous consulting detective Sherlock Holmes and his friend and colleague Dr. John Watson are called in to investigate a most intriguing mystery: What could have frightened Sir Charles Baskerville to death? Is there an ancient curse on the Baskerville family? Is Sir Henry Baskerville, Sir Charles young heir, being stalked by a supernatural Hound from Hell or a diabolically clever murderer? In this new adaptation of Sir Arthur Conan Doyles greatest adventure Holmes and Watson pursue the answers to these questions from their rooms in Baker Street, through the teeming streets of London and on to the windswept moors of Devonshire. With a dash of humor, this thrilling feast culminates on the fog-bound reaches of Dartmoor, where finally the secret of The Hound of the Baskervilles is revealed.
Notes:
from the novel by Sir Arthur Conan Doyle, adapted by R. Hamilton Wright and David Pichette
1st Produced:
Seattle Repertory Theatre, Bagley Wright Theatre, Seattle 15 Nov 2013
Organisations:
-
1st Published:
Music:
-
To Buy This Play:
If Publisher (above) is underlined then the play may be purchased by direct click from the Publisher, otherwise (below) are AbeBooks for secondhand, signed & 1st eds and other Booksellers for new copies
Booksellers:
Genre:
comedy adaptation
Parts:
Male: 8 Female: 2 Other: -
Further Reference:
-

Top of Page