---
---

MARK KYDD
Nationality:
British
email:
n/a
Website:
n/a
Literary Agent:
n/a
Mark Kydd's plays including biography, theatres, agent, synopses, cast sizes, production and published dates
Buy Plays with Doollee
Each page of doollee.com has links to play/book outlets, either directly to the Publisher, through Stageplays.com and Amazon to the second hand and 1st editions of AbeBooks. These links will automatically take you to the relevant area obviating the need for further search.
AbeBooks.co.uk
AbeBooks.com
Stageplays.com
amazon.com
amazon.co.uk
amazon.ca
---
whether you are a Playwright who wishes to make their entry definitive, an unlisted Playwright or a User with a tale to tell - we want to hear from you.
download WORD submission template
---
---
---
Spain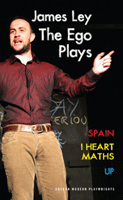 You can't run away from your problems. . .but you can take them to nicer places. at 22, ally relocated from Edinburgh to Gran Canaria and he's never looked back. He hasn't had time. He's been too busy enjoying himself. . . and other people. Lots of other people. In fact, in the twenty years he's been on the island he's averaged a man a week. But at 42 ally is entering his promiscuous person's mid-life crisis. as he waits for the arrival of his latest gentleman caller, he finds a small memento that takes him back to his life in Scotland. Spain tells the story of an ex-pat Scot, thrown into an existentialist crisis and forced to begin a long journey home.
Notes:
by James Ley, co-created And performed by Mark Kydd. Part of Glasgay! Scotlands Annual celebration of queer culture. the theme of self-indulgence unites the three plays in the ego Plays collection. At the heart of each is A gay man Asking A lot of questions. . . About himself. these questions range from scientififIc And philosophical musings to Angst-ridden pleas for enlightenment. they come from men who have become so trapped in their own situations that they can no longer successfully connect with the outside world. Up is A play About despair, I Heart Maths is A play About love And Spain is A play About moving on. Together they present the cognitive processes of three men who have Allowed personal problems to grow to monstrous proportions. In each of these plays excessive self Analysisleads to the main characters taking desperate measures, though frequently Also leading to humorous consequences. But while these plays Are comedies, exploring the perils of taking oneself too seriously, they Are not intended to be cruel. Instead they set their characters free by making their worst fears come true And then taking them somewhere new.
1st Produced:
Organisations:
Glasgay
1st Published:
Music:
-
To Buy This Play:
If Publisher (above) is underlined then the play may be purchased by direct click from the Publisher, otherwise (below) are AbeBooks for secondhand, signed & 1st eds and other Booksellers for new copies
Booksellers:
Genre:
play 60 min. - - Gay, one act
Parts:
Male: 1 Female: - Other: -
Further Reference:
-

Top of Page
There Were Two Brothers
Synopsis:
Dundee in the 1970s and 1980s was not the place to grow up gay. It had one club -The Beez Neez. It certainly wasn't. Part confessional monologue, part lecture and part storytelling, there were two brothers is a funny, very personal exploration of fraternal relationships. Inspired by gay brothers, both real and fictional, this new show from performer Mark Kydd takes the audience on an unexpected journey through his experiences with his brother. It's a show for anyone who has known the joys, frustrations and complexities of family life.
Notes:
-
1st Produced:
Brighton Fringe 2013
Organisations:
-
1st Published:
- -
Music:
-
To Buy This Play:
If Publisher (above) is underlined then the play may be purchased by direct click from the Publisher, otherwise (below) are AbeBooks for secondhand, signed & 1st eds and other Booksellers for new copies
Booksellers:
Genre:
Gay, full length
Parts:
Male: 1 Female: - Other: -
Further Reference:
-

Top of Page