---
---

SAM HENRY KASS
Nationality:
USA
email:
Click here to contact
Website:
n/a
Literary Agent:
n/a
Sam Henry Kass's plays including theatres, agent, synopses, cast sizes, production and published dates
please send corrections / additions to doollee as an attachment -> download WORD submission template
Buy Plays with Doollee
Each page of doollee.com has links to play/book outlets, either directly to the Publisher, through Stageplays.com and Amazon to the second hand and 1st editions of AbeBooks. These links will automatically take you to the relevant area obviating the need for further search.
AbeBooks.co.uk
AbeBooks.com
Stageplays.com
amazon.com
amazon.co.uk
amazon.ca
---
whether you are a Playwright who wishes to make their entry definitive, an unlisted Playwright or a User with a tale to tell - we want to hear from you.
download WORD submission template
---
---
---
Lusting After Pipino's Wife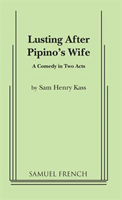 This cleverly constructed comedy about the never ending war between the sexes centers around a restaurant owner and his best friend. Vinnie and Patsy like to sit around talking about women and about life in general. A favorite topic is the restaurant dishwasher's gorgeous wife. Vinnie can't understand how a nobody like Pipino can have such a wife. In fact, he doesn't understand why women won't give him the time of day, especially tough as nails Lorraine whose friend Rita dates Patsy. Patsy decides he can find success selling shoes on the street and he proposes to Rita. Their wedding is disrupted by a gun welding Lorraine who rescues Rita from the altar, leaving Vinnie and Patsy to speculate and commiserate again about the mysteries of women. Note: This play contains some wonderful monologue and scene material, much of which has been anthologized elsewhere.
Notes:
-
1st Produced:
Primary Stages, NY, USA Sep 1990
Organisations:
-
1st Published:
Music:
-
To Buy This Play:
If Publisher (above) is underlined then the play may be purchased by direct click from the Publisher, otherwise (below) are AbeBooks for secondhand, signed & 1st eds and other Booksellers for new copies
Booksellers:
Genre:
Comedy
Parts:
Male: 2 Female: 2 Other: -
Further Reference:
-

Top of Page
SIDDOWN!!! (conversations with the mob)
Synopsis:
Takes us into the world of Mob related activities; Shedding light on the brutality, the absurd, & the hystErical. In "What's it all mean, hah?". . . A mob collector/enforcer down on his luck, tries desperately to procure one last favor from an old "friend." Though the setting is a mob cafe, the meeting is emblematic of our crumbling society-- Struggling families, desperation, loneliness, despair. Willie Loman as a down on his luck mobster. "Lefty & Squinty" is a lighter piece; HystErical, absurd, frantic. . . Two wiseguys attend a courtroom sentencing, in support of a fellow mobster. While waiting for the jury to hand down it's sentence, they ruminate about life, love, death, & cartoons. . . the final one-act of the evening is, "Dice & Cards." An older mobster tries to educate a young upstart, in the ways of mob after hours etiquette. . . Sal does his best to "school" young Richie in the ways of the world, to little avail. Funny, shocking, brutally honest in the ways of the mob, "Dice & Cards" is a show stopper. . . Featuring boxing legend, Ray "Boom Boom" Mancini.
Notes:
-
1st Produced:
NYC 1992
Organisations:
-
1st Published:
- -
Music:
-
To Buy This Play:
If Publisher (above) is underlined then the play may be purchased by direct click from the Publisher, otherwise (below) are AbeBooks for secondhand, signed & 1st eds and other Booksellers for new copies
Booksellers:
Genre:
3 one act plays
Parts:
Male: - Female: - Other: -
Further Reference:
-

Top of Page