---
---
DIANA BURBANO
Nationality:
USA

email:
Click here to contact
Website:
n/a
Literary Agent:
n/a
Diana has created notable roles in the world premieres of The Labors of Hercules at the Laguna Playhouse, Imagine at South Coast Repertory and Sweet Peace at Center Theatre in Santa Barbara. She is a familiar presence to SCR's young audiences, most recently in The Emperors New Clothes directed by Nick DeGruccio. Her play Silueta, about the death and life of the artist Ana Mendieta, written with Tom and Chris Shelton was a selection for the 2013 Great Plains Theatre Conference and was a finalist in the 2013 Ashland New Plays Festival.
Research:
Member of the Dramatists Guild of America (as at 2015)
Buy Plays with Doollee
Each page of doollee.com has links to play/book outlets, either directly to the Publisher, through Stageplays.com and Amazon to the second hand and 1st editions of AbeBooks. These links will automatically take you to the relevant area obviating the need for further search.
AbeBooks.co.uk
AbeBooks.com
Stageplays.com
amazon.com
amazon.co.uk
amazon.ca
---
whether you are a Playwright who wishes to make their entry definitive, an unlisted Playwright or a User with a tale to tell - we want to hear from you.
download WORD submission template
---
---
---
Fabulous Monsters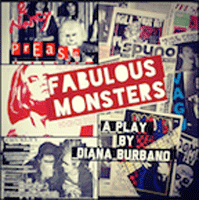 L.A. 1977. The punk rock scene is in full swing. Two young Latinas meet at a band audition. Luisa is effortlessly sexy, and sings like an angel. Sally, though musically brilliant, is rough-edged, moody, and tortured by her fluctuating sexuality. There's an undeniable symbiosis between them and they form their own band. Seemingly overnight they have fame and a following. Enter Nigel, an older glam rocker. Seeking something new, he asks Sally to join his band. She's torn: the offer is intoxicating, but what about Luisa? Sally accepts Nigel's offer. Luisa segues to a spectacular pop career strictly on her own. Sally feels a queasy mix of regret and contempt. Thirty years pass. Drugs and hard-living have exacted a brutal toll on Sally and Nigel. Age and illness have dimmed Luisa's star and diminished her powers. And Nigel is dying. To help him do so with dignity, Sally seeks Luisa's help. The gesture opens old wounds, but makes healing possible, too. They re-unite on stage and discover that two old broads can rock as hard as they ever did.
Notes:
-
1st Produced:
-
Organisations:
Latino Theatre Alliance/Los Angeles
1st Published:
- -
Music:
-
To Buy This Play:
If Publisher (above) is underlined then the play may be purchased by direct click from the Publisher, otherwise (below) are AbeBooks for secondhand, signed & 1st eds and other Booksellers for new copies
Booksellers:
Genre:
Punk Play
Parts:
Male: 1 Female: 5 Other: -
Further Reference:
-

Top of Page
Silueta
Synopsis:
Silueta is inspired by the true story of Ana Mendieta, a Cuban- American performance artist and sculptor, whose life ended in a harrowing 34-story fall from the SoHo apartment she shared with her husband, Minimalist sculptor, Carl Andre. Ana, 36 at the time of her death in 1985, was a rising star in the SoHo art scene, known for her signature 'siluetas' -- provocative impressions of her naked body in blood, earth, fire. Carl, already famous as a founding Father of Minimalism, was past the peak of his career. It was a marriage of opposing artistic temperaments, fueled by ferocious ego and ambition. Due to the emotional violence of their relationship and Carl's enigmatic behavior following Ana's death, he was accused and tried for her murder. Although there is much speculation about what actually happened that terrible night, only Carl, now an old man still living in that same 34-floor apartment, really knows. Carl is desperate to recover artistic potency, but blocked by a past he is unwilling to face. He is haunted by the passionately 'real' ghost of Ana, equally desperate to discover the truth of her death and, more importantly, the truth of her life and Carl's love.
Notes:
Written by Tom Shelton, Chris Shelton and Diana Burbano
1st Produced:
Great Plains Theatre Conference 2013
Organisations:
-
1st Published:
- -
Music:
-
To Buy This Play:
If Publisher (above) is underlined then the play may be purchased by direct click from the Publisher, otherwise (below) are AbeBooks for secondhand, signed & 1st eds and other Booksellers for new copies
Booksellers:
Genre:
Drama
Parts:
Male: 1 Female: 1 Other: -
Further Reference:
-

Top of Page
Vamping and Linda: 365 Women a Day
Synopsis:
-
Notes:
A 365 Women a Day festival
1st Produced:
[reading / workshop] Monster Box. Waterford, MI 05 Mar 2016
Organisations:
-
1st Published:
- -
Music:
-
To Buy This Play:
If Publisher (above) is underlined then the play may be purchased by direct click from the Publisher, otherwise (below) are AbeBooks for secondhand, signed & 1st eds and other Booksellers for new copies
Booksellers:
Genre:
-
Parts:
Male: - Female: - Other: -
Further Reference:
-

Top of Page